A day at the beach with April O´Neil with voyeur beach sex and flashing for two sexy couples. A real beach voyeur sex story
The weather was beautiful, blue skies and sunshine. There I was lying back on my sunbed at 8 in the morning, dreamily passing away the day. I was dozing off. Then I heard my name being called "Bernard, are you awake"…It was Arnold the next-door neighbor. "Hi, Arnold, what's up."
"Fancy going to the beach today with me and April O´Neil" said Arnold. "I have a case of beer and food all packed, what do you say?" Now a case of cold beer down at the beach was too tempting. "Sure, give me 5 minutes and I will be with you."
The journey was only about an hour and most importantly we arrived at the beach and found it was almost deserted. Being a weekday it was ideal, no kids or busy crowds. We picked our spot and settled down for a relaxing day.
See more Adult Sex Stories in our library of erotic reading
Fancying The Neighbor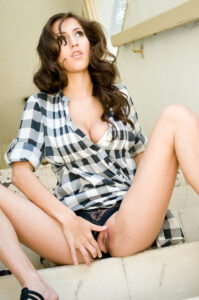 Arnold and April O´Neil were good neighbors who were never intrusive. Arnold was your average guy, who I shared a few beers with now and then, but I never went out of my way to become best mates, it was how I liked it.
April O´Neil, now she was cute, small in stature but a great personality. She was very easy to get along with and always made me feel welcome since the day I arrived in the neighborhood, just over a year ago. I never looked at her in a sexual way, mainly because she was a friend. Don't get me wrong, when I first set eyes on her, I looked her up and down and thought she had a great body and that I wouldn't mind fucking her. But I do that with most women I meet for the first time. Something most men do, if they are honest.
Enjoying Life On Beach Towels
We lay out the bath towels on top of the warm sand and began to cover our bodies with sun cream. This was when I noticed April O´Neil in a different light. She had the tiniest bikini on. Her breasts were small, and the bikini scarcely covered them. The bottom half of the bikini was cut so small it just covered her pussy and no more. If I looked any longer I'm sure Arnold would have put one on my chin.
I lay on my front before anyone noticed my prick beginning to swell. "Bernard, you better put some cream on your back or you will burn… here let me put some on." April O´Neil kneeled at the side of me and began to rub the cream into my shoulders however I was far away in a dream land. I started talking to Arnold asking him for a beer, trying to pretend that I wasn't even thinking about his wife's hands gently rubbing my back.
As Arnold passed me a beer I felt April O´Neil's hands touch my legs, her hands moving up and down the entire length of my legs, sliding under the hem of my shorts for a split second and then moving to the inside of my thighs. However I was now embarrassed and was glad when she finally stopped with a small slap of my ass. "That's you all finished."
Relaxing In The Sunshine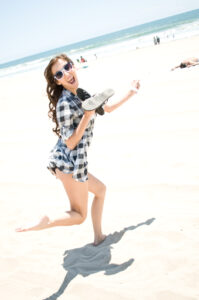 Lying there I put all thoughts of April O´Neil out of my head and began to relax and enjoy the sunshine. Supping away on a few beers and having a snack was great. The sun was getting warmer and my body needed cooling down. A dip in the water was required. Swimming out in the sea was a great feeling. The waves lapping over my body, the sea spraying on my face, it was a great feeling.
On returning, I found April O´Neil lying alone. April O´Neil told me that Arnold had been called away with an emergency at work and that he'll collect us later. I couldn't say I was disappointed.
Soak Up The Sun
April O´Neil lay behind me and continued to soak up the sun. As I lay on my front I could see April O´Neil's legs directly I front of me. I found myself trying to catch a glimpse of her bikini-covered pussy; each time she opened her legs. Now and then she would open them up and I could see the bikini cut into her pussy. There was no pubic hair in sight. I found myself wondering if she shaved her pussy all over or if she left a slight covering of pubic hair around her cunt. There was a definite swelling in my shorts now. My cock was solid, if I stood up you would notice the indentation in the sand from where it was pressed.
Not knowing that I was staring in between her legs, April O´Neil brought her finger down to her bikini and attempted to straighten it. Her finger went inside and pulled it back. I caught a slight glimpse of her exposed pussy and saw that there was no hair there at all. It was only a split second but it was enough. Suddenly April O´Neil sat up and I turned my head to the side, hoping she didn't notice me staring at her. "Bernard, I'm going for a dip to cool down."
April O´Neil Soaked and Sexy
April O´Neil disappeared for around ten minutes before returning soaked through. My eyes locked on to her huge nipples protruding through her bikini top. She may not have large breasts but her nipples where incredible.
April O´Neil caught me; there was no hiding the fact that I was looking at her beautiful nipples. She smiled and told me they are very susceptible to the cold. She dried herself off and lay back down.
This time when she opened her legs I could see her wet pussy through the bikini. I could now make out her cunt lips. Oh how much I wanted in between those legs, to feel my tongue lick away at her pussy.
A Beer With April
April O´Neil asked me to get her a beer. How could I? My cock was straining against my shorts; she is going to notice. "Bernard, could you get me a beer." I stood up and walked over to the icebox and took out two beers. As I handed her the bottle she looked at the bulge in my shorts. "Are you feeling cold?" she said with a smile on her face. "Excuse me… what do you mean?" I asked pretending not to notice. "Your dick… does it get bigger when it's cold?"
"Shit… it has a mind of it's own sometimes" hoping this stupid answer would be good enough to cover my embarrassment. April O´Neil smiled and drank from the bottle, not taking her eyes off me.
When I lay back down I was thinking about how she looked at me, how her eyes were staring and counting the inches of my cock. I knew how big I was in comparison to other men, it wasn't the longest dick in the world but it was thick. It had a girth of about five inches. Most women loved it and some were shocked by it. It gave me confidence knowing some women loved to hold it, feel its thickness and wonder how it would feel inside if them. Seeing them gasp as it inched its way inside was a big turn on.
A Glimpse Of Pussy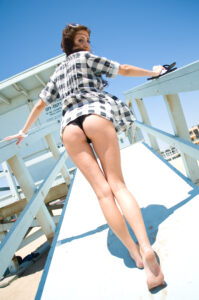 April O´Neil was now sitting up, resting her arms on her knees with the bottle of beer in her hand. I continued to lie on my front. April O´Neil chatted away while I remained trying to catch the odd glimpse of her pussy. I'm sure she knew what I was doing. She would open her legs now and then giving me that little look. Her bikini had dried out now, but it was still exciting me.
April O´Neil took some oil and began rubbing it over her body, finishing off with her legs. When she finished she lay down again. Her tanned legs were glistening in the sun; they were open wide giving the sun access to the inside of her thighs. A few minutes passed before she once again ran her finger inside her bikini panties. She stretched the material, her finger running down her pussy.
It lasted for a few seconds and then stopped. But her legs remained open. Her hands were now rubbing the oil into her thighs, stretching to her knees then coming back very seductively up her thighs. "Bernard, what are you doing?" asked April O´Neil. "I'm looking at you rubbing your legs, I was going to offer to do it for you but you're doing such a great job of it." I waited for a reaction. "Well if you don't mind could you do my back?" asked April O´Neil. I wasn't going to act shy now. April O´Neil turned on to her front and undid the bikini top. I took the oil and poured it on to her back. Slowly I began to rub it into her soft skin.
Aprils Beautiful Skin
No blemishes were visible on her beautiful skin though I examined it inch by inch. First her top. Secondly her beautiful breasts. My hands smoothly massaged the oil into her shoulders, kneading the muscles around her neck, bringing my hands down her spine, sweeping my hands out over her hips. My fingers spread, coming up her side, my thumbs through the center. Soft moans sounded as my fingertips passed the side of her breasts. I made sure I covered every inch of her back, softly and gently covering her skin.
This is when I took the initiative to do the back of her legs, no point in asking. My hands softly touched her thighs. Soft moans came from April O´Neil again. I knew she was enjoying it. Her legs opened wide, allowing my hands to glide over the inside of her thighs. Reaching over her I took a piece of ice from the icebox. April O´Neil's hips moved slightly as I came closer to her pussy. I allowed my fingertip to gently touch the cotton fabric of her panties. Touching her here was obviously turning her on, as each time I did this her hips would rise, elevating her beautiful ass.
G-String Inside Cheeks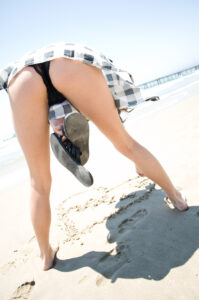 The g-string was inside her cheeks. My hands spread over her cheeks; I rubbed those cheeks gently to begin with, and then applied more pressure, kneading and squeezing them, letting my thumbs slide down towards her pussy. A soft moan came from April O´Neil as my thumb slid inside her panties and entered her wet pussy.
I removed my thumb and rubbed her lips with the ice. Though she cried out as it touched her, writhing and squealing with pleasure, I kept going. When I slid the ice in her pussy she began biting the towel in an attempt to drown out the squeals. I stirred the ice within her soaking love hole, stimulating her sexual desires. Watching as the melting ice mixed with her creamy sweet feminine juices streamed from her cunt. I removed my fingers and tasted this beautiful potion. Slipping my tongue over each finger, tasting each droplet.
Slowly at first, my thumb went inside her, seeking out her g spot. As I rubbed a little harder I could feel the spot growing. I applied more pressure each time she moaned. Her soaking wet pussy was firmly pressed against my hand. I began rubbing faster and faster knowing her orgasm was coming. Her entire body shook. The head was thrown back. Her pussy gushed. I held her firm as she came.
It Is Time To Cum
Crying out "Fuck me…Fuck me, Bernard…Shove your cock up my cunt …now" I had the exact same thought. My cock was already in my hand. April O´Neil lifted her panties to the side as I placed my cock at the lips of her beautiful hole. I inched my cock in and watched as it opened her wide. Her pussy was tight considering how wet it was. With a little thrust, I managed to get the whole of my dick inside her.
"Fuck Ohhhhhh Fuck…Yesssss…Fuck me Bernard" April O´Neil yelled. I looked around to see if anyone was hearing this. Luckily no one was. I pumped her hard and fast lifting her legs over my shoulders, making sure she got every single inch of my throbbing thick cock. The head of my prick was coming out to her lips, then, I would ram it back inside her stretched cunt. She screamed and dug her fingers into the sand. Her body locked, my cock slammed into her as fast as I could go, she came screaming all sorts of obscenities. Her juices flowed and seeped quietly from her cunt.
"I want you to cum now Bernard…shoot it all over me" she panted, as she grabbed those huge nipples of hers. That was it…Oh fuck I'm going to come. I grabbed a hold of my cock and held it firm, watching as she pinched her nipples… "Oh Fuck…Yes"…I yanked my foreskin back and came…spraying my juices over her face…her tits…her belly, it was going everywhere. Breathing deeply I let the last drops fall on her pussy before bending down to kiss her.
We kissed and lay till we caught our breath. Then I took April O´Neil's hand and ran towards the sea. I've always wanted to fuck in the sea.
See more of Aprils Beach Voyeur photos over at College Beauty College.