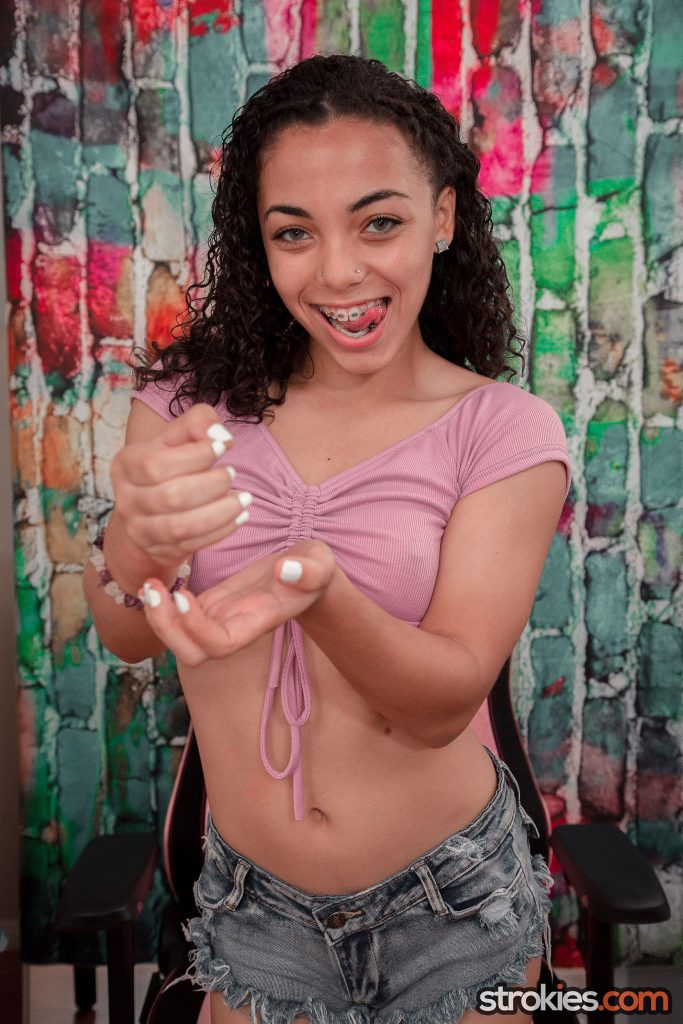 Meet Zerella Skies, 21-year-old Latina babe with a bangin' body and braces on her teeth. She's known as the throat goat or throat dragon depending on who you ask, but in this scorching Strokies scene, she proves that her hands are fire too. 🔥🔥🔥 She greets us in Spanish and shares a bit about her background, all the while looking fucking amazing in her tight denim shorts and little strappy top. She started off as a stripper and has been in the adult industry for about a year already.
Horny Latina with braces Zerella Skies gives a handjob in this unforgettable Strokies handjob video, and you are gonna want to bookmark this one or download the gallery and video for keeps. She starts by taking those perky tits out of her top, and then her sexy tongue flicks out to lick her own nipples, and that's when you realize this hottie has got her tongue pierced too. Braces and a tongue piercing? We love to see it. Her booty is cute as hell and that hairy slit looks so lickable, big lips on display. Mmm.
The naughty little nympho uses her tongue piercing to tease the tip, grinding on her guy's leg while she uses her hands to drive him wild. She cums, licks her pussy juice off of him, and then gets to work on sucking his balls. Dangerous with those braces, but oh so hot. She deep throats him while licking his balls at the same time, and we're glad she put some of those throat dragon skills on display even in this sizzling handjob scene! 👅🐲 Some dick slapping and dick-on-clit play follows, then he eats her pussy! Oh, to be him. Two cumshots for him and multiple orgasms for her. It's a damn good day when Zerella Skies is in the building.