Today's post is for our readers who are adult webmasters, but our everyday porn aficionados will certainly enjoy this too. We'd like to introduce you to Top10CamGirls.com, where you can enjoy your own list of top 10 cam girls based on the categories of your choosing, in the areas of girls, males, trans, and couples. There are tailored lists for each category, so you can just bookmark the site and always have easy access to your favorite lists. It's truly unique and worth enjoying yourself or sharing with your members and followers.
Taking a closer look at the Top 10 Cam Girls site, your eyes will immediately go to the selection of gorgeous cam models, but if you can manage to tear your eyes away from those beauties, on the left you'll find a very convenient menu that asks, "How would you choose your top 10?" And you have the choices of body shape, ethnicity, fetish, payment method, language, or show all.
Those top categories then break down into expertly curated lists. For example, body shape breaks down into athletic cams, BBW cams, curvy cam girls, muscle cams, petite cam girls, and skinny cam girls, and ethnicity breaks down into Asian cams, blonde cams, ebony cams, Indian cam girls, Japanese cam girls, Latina cams, Spanish cam girls, and Caucasian cams.
And what happens when you click the category of your choice? Take a look at what happened when we chose ethnicity and Caucasian cams: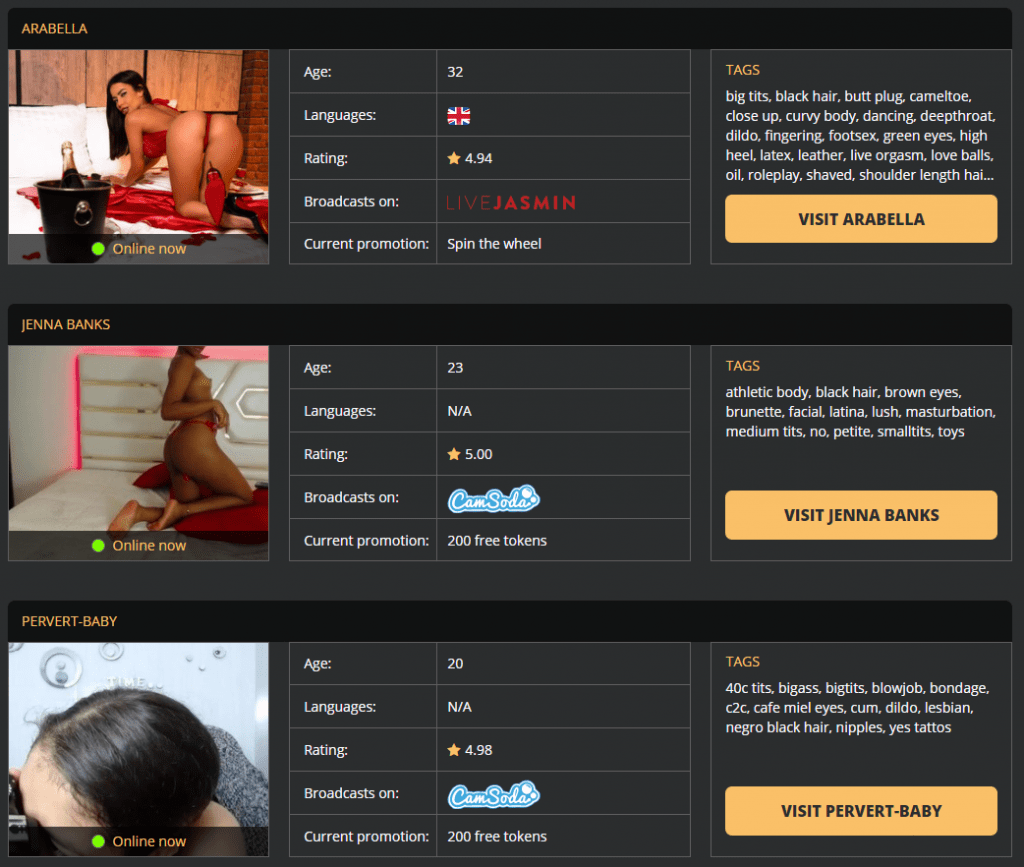 That shows you the first three for that category, but as you can see, you'll be presented with a list of the top 10 best cam girls in that category, along with their age, languages, rating, broadcast location, current promotion, tags, and a link to visit her cam. It's clear to see how useful Top 10 Cam Girls can be when you're trying to decide who to chat with, and this makes it worthwhile for you when searching for content either for fun or for promotion. This one gets five stars from us, no question about it! ⭐⭐⭐⭐⭐