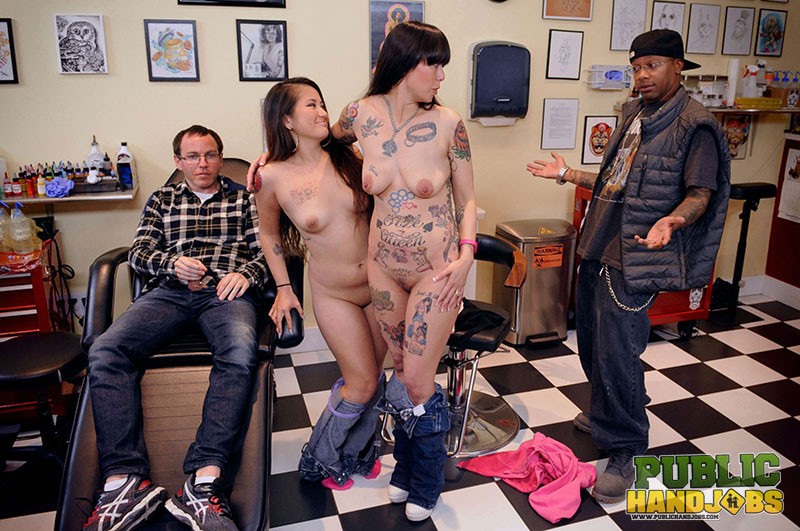 All of us at Adult List adore tattoo aficionado Miatsu Kumiko, and in this very risque double handjob video from Public Handjobs, she collaborates with her girlfriend Suki to pay for a tattoo with sexual favors. After all, tattoos are expensive, but Suki really wants her dog inked permanently on her body. They just smile and nod at the $300 price tag, but when the work is complete, they can't pay up! What's a girl to do?
Few could resist a Miatsu Kumiko and Suki double handjob, especially one that takes place in a busy tattoo parlor. Miatsu and Suki whisper among themselves about the fact that they always barter handjobs for all kinds of things, so why not a tattoo? And with those talented hands in his tattoo parlor, what are the odds that this horny tattoo artist will turn them down? Spoiler alert, he gives in, and the rest is handjob history.
The lucky tattoo artist pops a squat in his own tattoo chair for these gorgeous ladies Suki and Miatsu to get to work unzipping him. They undress to reveal all their sexy tattoos too. Who knew that Miatsu was so covered in ink? 🤯⚓💕 There's plenty of work being done elsewhere in the tattoo shop and this naughty threesome is constantly at risk of getting caught!
This scene is packed with all kinds of naughty sexual fun and you won't want to miss a minute. Here's a hot gallery as an appetizer: