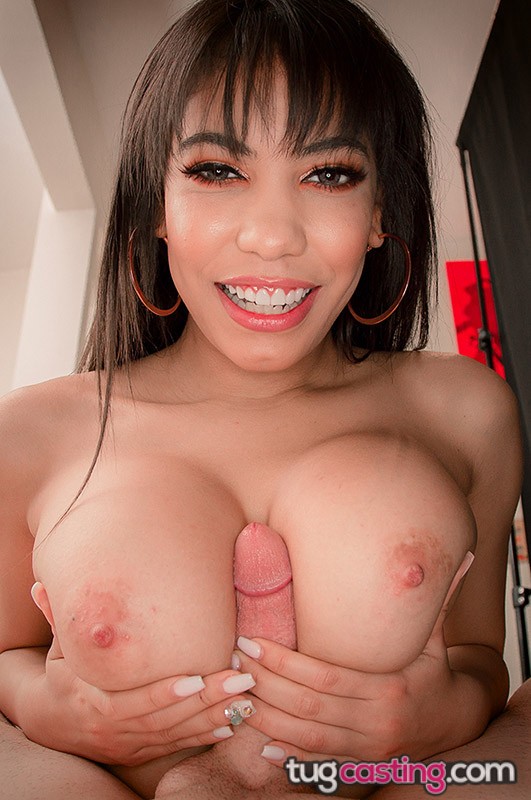 Lovely landlord Gia Milana is about to come through for that rent payment on Tug Casting! But late-paying tenant "Brad" isn't able to come up with the amount due… what can he do? Well, it's Gia herself who notifies him that she does not accept cash, and that she will only accept payment in the form of cum. "I need your cum all over these titties," she enthuses as she squeezes those big fake tits in her tight black dress. Can you imagine facing this situation? What a dream cum true.
It quickly becomes apparent that someone told Gia that regular cum serum treatments will keep her titties nice and firm, and that's why she wants Brad to deliver his rent payment in the form of jizz. We really can't blame her for wanting to keep those luscious tits as perfect as they are. Just look at how flawless they are! And landlord Gia Milana gives a handjob to help him make that deposit too.
Ebony hottie Gia Milana strips out of that sexy black dress to show off a nice round booty and a perfect shaved pussy. She uses her long nails to activate our dude's hard-on through his pants, and soon she's using her hands as well as her lips and mouth to deliver stroke after lick after suck of pleasure. She even masturbates and makes herself cum while licking his cock. Wow.
Don't miss the lubed-up titty fucking action in this sizzling hot Gia Milana exclusive POV handjob video. Take a peek at a sample gallery below and then head over there for the full Tug Casting experience.