Join us on a journey to an entirely new universe of fetish porn today. A universe filled with stunningly good looking Eastern European babes. Each and every one of them has a deviant side. A desire for fetish wear. A craving for filthy lesbian games. A submissive side or a dominant streak. Whats more, every single one of these amazing babes is determined to invite you in to encounter their fetishes in action!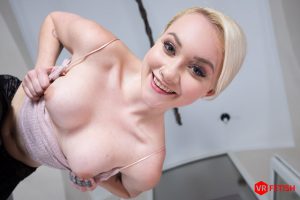 Czech girls are well known to be astoundingly pretty, but now it turns out they are kinky too. At Czech VR Fetish you can follow them engaged in strap-on sex, bondage adventures, dressed in high heels and stockings, pissing outdoors, and dominating each other.
These are not your ordinary run of the mill fetish flix though. The movies are recorded in ultra-HD and many of them with virtual reality capabilities. It allows you to get closer to the action than ever before, see every little detail from multiple angles, and much more beyond. These are movies you can blast all the way up on the big screen without losing quality.
These are all entirely exclusive VR Fetish movies that you can watch on an endless variety of devices from your old laptop to your brand new Smartphone. For the virtual reality features you can use devices such as Gear VR, HTC Vive, PSVR, Oculus Rift/Go/Quest, WMR and Valve Index to do your watching. If that is too technical simply fire up your computer or smartphone and enjoy the Ultra-HD film in perfect quality. And yes, you can pan around 180 degrees in these VR films with full freedom to peek at everything going on while listening in true Stereoscopic 3D to every moan, groan and scream.
Bonus Features
You get 100s of VR fetish films but it does not stop there. A whole range of full bonus sites is included with every membership. Interesting related sites such as Czech VR Casting porn, Bitch Stop, Czech Girlfriends, Lesbian Pickups and Gyno Violations are included for free and each deliver their own range of exclusive movies.
VR Fetish: Conclusion
Where does it leave us? Absolutely thrilled to be honest! Fetish films of high quality with interesting action and stunningly beautiful babes are a rarity in themselves. In this case, these elements have been produced to perfection for any fetishist with a wide range of kinks to choose from.
Add to that the unique virtual reality features allowing you to pan around, examine details, and engage. Well. This is simply unmatched technically and on the action side of things as well!
Very highly recommended!