Today we visit the French SM site Dominatrice-france.com which features a variety of entries to the BDSM scene in Paris and all over France. The site especially caters to travelling visitors to the city of love. Enabling kinky visitors to hook up with lifestyle BDSM enthusiasts in France to spice up the holidays or business trips.
Paris has plenty to offer in itself. The Louvre with its endless art collections and the smiling Mona Lisa. Strolls along the Seine as evening sets in. The wildness of the beau de Bologna. The vibrant old streets of the Latin quarters. Plentiful old castles, cathedrals and museums. You will never lack for cultural entertainment or café latte in Paris.
Dominatrice Companion in Paris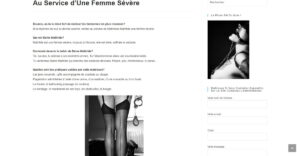 However, wouldnt it make for an even more perfect visit to Paris if you had a kinky companion. A real Dominatrice France lady to show you the seedy underbelly, the dark dungeons and lively BDSM scene of the kinky city. Plenty of experienced and sexy ladies are ready to not only accompany you on tourist tours round town but also engage in the hottest SM games of your fantasies!
The French femdoms and dominatrixes have the highest level of expertise and elegance. Beautifully equipped dungeons combined with experiences dominas make for SM sessions you will not soon forget. From light hearted bondage games and domination sex sessions to hardcore CBT and cruel prolonged BDSM experiences. Only your limits and liking sets the boundary for the French SM games to be experienced in Paris.
Never walk alone in Paris. The French girls are friendly, knowledgeable and ready to play. Dive into the Paris BDSM scene with enthusiasm. It will triple the enjoyment of your visit!